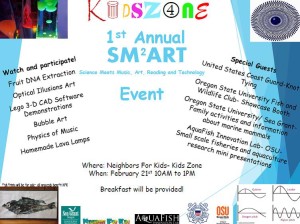 Neighbors For Kids will host S.M.2A.R.T.–Science Meets Music, Art, Reading, and Technology– on Saturday, February 21, from 10:00 am to 1:00 pm, serving breakfast at 10:15. This free, family-friendly event at the Kids Zone, 634 SE Hwy 101 in Depoe Bay, will have activities, booths and exhibits designed to demonstrate how science integrates with diverse disciplines.
Guest presentations and exhibits include U.S. Coast Guard volunteers, who have been working with Kids Zone students on knot-tying techniques used by the USCG in safety and rescue work; Oregon harp-maker David Rudkin, who will give us the opportunity to electronically view live- stream harmonic oscillations; the OSU Fish and Wildlife Club; OSU Aquafish Innovation Lab; and from the OSU Extension, Dr. Guillermo Giannico, Associate Professor & Extension Fisheries Specialist, and Leigh Torres of Oregon Sea Grant. These community partners will highlight vital and unique outlooks and aspects affecting aquatic and coastal life for generations to come.
Please join us for a wonderful breakfast and help NFK celebrate our children's interests, efforts, and endeavors at S.M.A.R.T.!
For more information, contact AXAP Director Vivian Arends or STEAM Teacher Jenny Green at 541-765-8990.