Teens are discussing "Hot Topics"
on Thursdays at Kids Zone!
Each week Kids Zone teens open a discussion of a new topic pertinent to their experiences and connection to their world. After brief discussion and optional writing prompts, the students have 15 minutes of quiet writing time to address the issue under discussion personally in a casual environment with calming background music.  They will then have the opportunity to share aspects of what they have written and discuss as a group each of their viewpoints or experiences.  Positive feedback and support is encouraged and the teens have chosen to meet the expectation of mutual respect.  We're excited to hear more from them!
Teens took a field trip in our new bus to Muggly's Bowling Alley in Toledo last week — a reward for their effort and time put in to volunteering for Kids Zone and at the Depoe Bay Salmon Bake.  Part of the cost was defrayed by teens who donated their tips from the Bake to Kids Zone!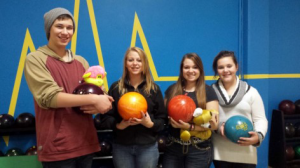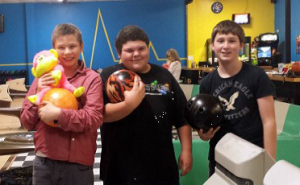 The NFK Teen Center for grades 7-12 is a place for teens to do homework and receive academic tutoring and homework assistance. They also participate in classes that teach computer information technology, career development and life skills, as well as college preparation and youth entrepreneurship. As this program continues to be expanded, it will include opportunities to focus on responsible decision-making, teen pregnancy prevention and drug/alcohol prevention.