The NFK Music Department has ten or so eager students learning many new skills, such as sound technology, guitar, song-writing, percussion and more.  We have the privilege of working with talented and motivated youth who surprise us every day!  The student roster will be changing a bit for second semester, which will open up a couple of slots for new students. A big thank you to all who support our programs and to the amazing staff and parents who encourage our kids to pursue their interests and expand their love for the arts!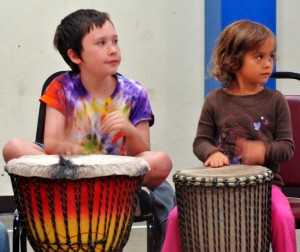 Kids Zone youth look forward to Fridays and music lessons here at Kids Zone. Instruments range from the acoustic guitar, bass, percussion, ukulele, didgeridoo, and piano. Youth are given the option to choose what instrument(s) they would like to learn and then receive group and individual lessons based on skill levels. Most of the teens take lessons on either bass, acoustic guitar, or percussion.
Our teacher and volunteers have many years' experience working with both kids and adults. It's amazing how much self confidence and self esteem is created as kids learn and master music skills. Each year we have a recital so our participants can showcase their growing skills!