Neighbors for Kids Charity Golf Tourament.
Stay tuned for 2013 tournament information.
You can help support Lincoln County students who attend the Neighbors For Kids after school enrichment programs by sponsoring the event, competing in Neighbors For Kids' 4th annual charity golf tournament, donating to this charitable fundraiser or volunteering your valuable time to help out.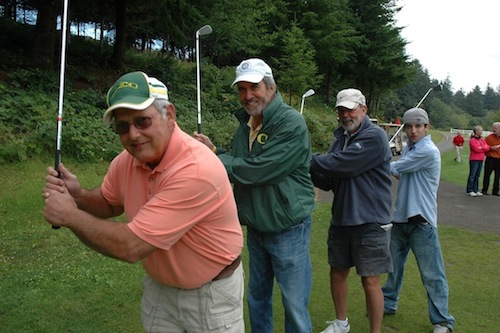 Dan Fouts (second from left) with his team from the 2011 Golf "Fore" the Kids Tournament.
One of the women's teams from the 2011 Golf "Fore" the Kids tournament. Go girls!
We are still seeking individual and business donations in support of this event. Donations can include trophies, prizes for the contests, items for our silent auction, raffle prizes and goody bags. To find out more details and information on advertising opportunities click on Donations. Your donations are tax deductible! 
This is our biggest fundraiser of the year, and we can use all the help we can get! To find out more about how you can help, click on Volunteer.
All proceeds benefit Neighbors For Kids programs in Lincoln County.